Within the frame of the project "WET MEADOWS AND PASTURES 2" EuroNatur intends to support local and national NGOs and the European Stork Villages (ESV) in the implementation of projects addressing the restoration of wet meadows and pastures. A first call for proposal in 2018 resulted in the funding of 8 habitat projects, which are currently ongoing. With this second call, we aim to identify and fund additional habitat projects in order to continue and enlarge this successful project model.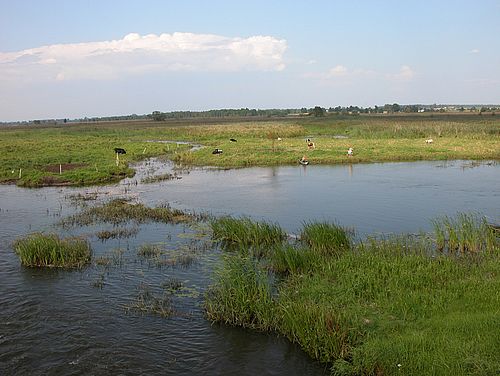 As in the first call for habitat projects, the project area needs again to be located in Central, East or South-East Europe. The projects need not necessarily be located in the European Stork Villages, but can be implemented in any suitable target areas in Central, Eastern and South-Eastern Europe, and preferentially in protected areas or their vicinity. The projects must have a direct focus on habitat improvement measures that are related to the restoration, creation, improvement or extension of wet meadows and pastures. The habitat projects already carried out were a great success, from which not only the white stork populations benefited, but also other plants and animals of the wet meadows.
The total project budget should not exceed 25,000 € for a follow-up of a project from the first phase of the Wet meadows and pastures project and 35,000 € for a new project (unless additional funding from other sources is acquired). The projects may start from 1 October 2019 onwards, should have maximum duration of 18 months and should be completed by 31 March 2021.
The project proposal and budget must be based on the templates provided with this call and need to be submitted until 30 June 2019 via e-mail to stefan.ferger(at)euronatur.org. EuroNatur will confirm the receipt of the proposal and will notify whether it is complete or whether additional information is required.
Here you can read the complete call for proposal
Here you can download the template for project-proposals
Here you can download the template for the budget plan
Support us!
Report sighting
Have you seen a white stork or another interesting species of animal, plant or fungus? Make your observation count for nature conservation and share it with other nature lovers! It's free and it's fun!