EuroNatur is a charitable foundation which is based in Radolfzell, Germany. It was founded in 1987 by BUND (Friends of the Earth Germany), NABU (the longest-established nature and biodiversity conservation association of Germany) and DUH (German Environmental Aid). EuroNatur is legally, organisationally and financially independent, autonomous and not affiliated to any political party.
In a time in which natural treasures are subject to overexploitation everywhere, EuroNatur stands for a different way. The foundation's nature and species conservation projects help preserve Europe's nature in its beauty and diversity. EuroNatur protects large-scale natural landscapes as well as ecologically valuable cultural landscapes throughout Europe.
EuroNatur projects are designed for the long term and involve the needs of local people. We strive not only for the protection of wildlife and its habitats in Europe, but also for an ecologically sustainable development of the respective region – in harmony with nature.
We emphasize cooperating with local partner organisations and provide our partners in the EuroNatur project areas with the necessary support that enables them to effectively protect nature.
Our aim is a European continent that hosts free-flowing rivers, pristine forests, diverse cultural landscapes as well as sufficient space for wild animals and migrating birds within their ecosystems. We are committed to connecting people and nature in a peaceful Europe – beyond national borders. Our efforts for the protection of plants, animals and habitats are trans-boundary in nature; we strengthen local conservation organizations and create international networks between them. Together with our Europe-wide partner network we create solutions that allow humans to live and work in harmony with nature.
Learn more about EuroNatur, it's goals and projects on its website.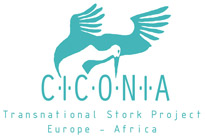 The transnational stork project CICONIA was founded in 1997 in Schaan (Principality of Liechtenstein) and is qualified as a charitable foundation. CICONIA supports nature conservation and environmental education projects in different countries along the migration route of White and Black stork. The two storks species are the ideal flagship species for conveying ideas:
The aims are to strengthen nature conservation through the conservation of valuable habitats and to promote environmental awareness, especially among young people.
The White Stork is a flagship species for extensively used, varied cultural landscapes. It is an ideal representative for the conservation of extensive grassland use. Its twin species the Black Stork stands for undisturbed forests in combination with wetlands. Black and White Storks are representative of Europe's highly endangered habitat types. At the same time, student environmental education projects contribute to long-term sustainability in nature and environmental protection. The White Stork is an easy observable species and a part of many myths and stories which helps to raise children awareness of nature conservation and environmental concerns.
The habitat protection and enhancements achieved by CICONIA are far more than just the protection of storks. Many other rare and endangered species benefit of the projects and finally also we humans through an attractive environment.
Key strategies of CICONIA are the long-term project cooperation and the use of synergies across national borders. Furthermore, CICONIA works hand in hand with competent NGO partners on site and strengthens the existing local structures in nature conservation.
Learn more about CICONIA, it's goals and projects on its website.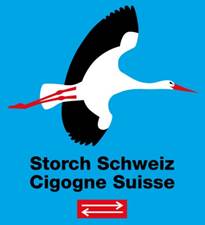 The non-profit society Storch Schweiz was created in 1976 with the objective to provide scientific guidance and public recognition and support to the innovative project to re-establish a successfully breeding White Stork population in Switzerland after its extinction during the post-war period in the intensively urbanised agricultural landscape. Since those days, the members of Storch Schweiz continue to monitor a now well re-established Swiss breeding population of White Storks, and they use these very popular birds as a flagship to promote and support habitat restoration measures and changes towards sustainable agricultural practices. To guide its efforts, Storch Schweiz has elaborated a national action plan for the White Stork with support from national and regional authorities and its own group of White Stork experts. Storch Schweiz monitors the implementation of the national action plan by regional and local authorities, non-governmental organizations, citizen groups and individual stakeholders. It publishes an illustrated annual bulletin in German and French with detailed population monitoring data and a number of conservation case studies of wider interest. Storch Schweiz maintains a website with useful information on the species and its conservation in Switzerland and beyond. It also contributes to a number of environmental education centres throughout the country which are run by local member organisations that were involved in the earlier national re-introduction programme.
Since the turn of the century, Storch Schweiz has extended the focus of its work along the migration routes of White Storks breeding in Switzerland and its surroundings. It created the programme "SOS Stork", the first one to equip migrating storks with satellite transmitters at a large scale and to follow individual birds on the ground along their migration routes to southern Europe and western Africa. This spectacular project created much media interest and local awareness and established links with many other organisations monitoring White Stork populations and working for the conservation and restoration of their feeding and breeding habitats in many parts of Europe and North Africa. The partners in this programme are currently studying changes in the migration patterns of different populations and their genetic or environmental origins. The programme leads to the formulation of urgent conservation measures for the species and its habitats, and recommendations how best to inform and educate the general public and political decision-makers about the need to change towards more sustainable agricultural practices and land-use , e.g. through the worldwide GLOBE science and education programme.

Learn more about Storch Schweiz, its goals and projects on its website.
Support us!
Report sighting
Have you seen a white stork or another interesting species of animal, plant or fungus? Make your observation count for nature conservation and share it with other nature lovers! It's free and it's fun!