Facts and Figures
Location:

Košice region in the southeastern Slovakia, on the Slovak-Hungarian border. The village is 12 km far from Moldava nad Bodvou, lying in the south-western part of Košice (the second biggest city in Slovakia), touching the hills of Bodva.

Population:

10

Min. and max. numbers of breeding pairs since the year 2000

1.000

Inhabitants in the year 2017

White stork in Slovak:

Bocian biely

Nesting sites:

Electricity poles, mainly in the center of the village

Events:

Annual stork ringing, garbage and litter collection, children summer camp, nature education

Google Map
This map is currently hidden to protect your privacy. If you click the button below it will be loaded from Google.
When enabling the checkbox below your preference will be stored as a cookie to automatically display all maps on page load. The cookie will be stored for one week.
Storks as ambassadors of nature
"The fact of being a European Stork Village helped a lot concerning the attitude of citizens. They pay more attention to the storks and environment as a whole. A bigger emphasis is laid on nature conservation in the local kindergarten and grammar school. The children are involved in the ringing of the storks, they learn more about nature protection."
Landscape and habitat
The storks search for food mainly on the agricultural lands found in the vicinity of the village in the Cserehát and Kanyapta valley. They also forage on the territory of the river Kanyapta, which flows near to the village. One of their favourite places is the small lake situated on the territory of the local grammar school, which was created by the financial help of EuroNatur.
Conservation/ Events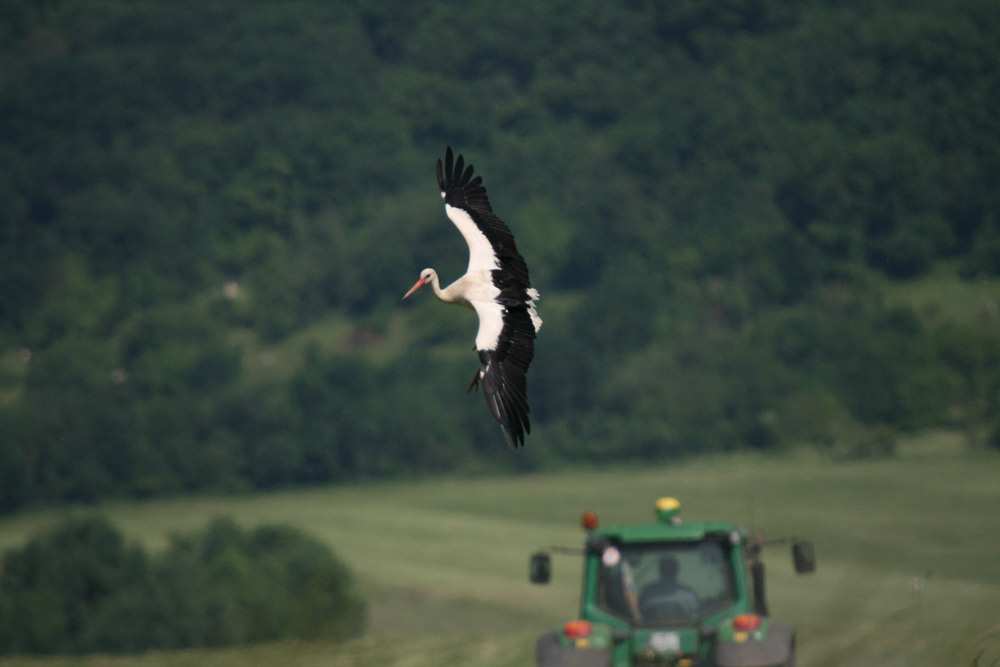 Our village participates in the Wet Meadows and Pastures project to create better life conditions for the white stork population. We are working on the creation of a wetland area and a pasture.
Annual stork ringing
Garbage and litter collection in and around the village each spring
Children summer camp with activities about nature conservation
Nature education

Local players and EuroNatur partners
Municipality of Buzica, Primary Grammar School of Buzica- Základná škola Buzica- Alapiskola Buzita, East Slovakian Museum, Ciconia
Support us!
Report sighting
Have you seen a white stork or another interesting species of animal, plant or fungus? Make your observation count for nature conservation and share it with other nature lovers! It's free and it's fun!