Facts and Figures
Location:

Northern part of Serbia, Vojvodina (middle Banat district), north of Belgrad and close to Novi Sad, adjacent to the river Tisa.

Population:

22-40

Min. and max. numbers of breeding pairs since the year 2000

1.000

Inhabitants in the year 2017

White stork in Serbian:

белa рода (Bela roda)

Nesting sites:

electricity poles

Events:

Celebration of the arrival of the storks in March, Stork festival ("Stork Days") in June, Celebration of farewell to the storks in August

Contact
Association of Citizens "Taraš storks"
Trg Svetozara Markovica 1, 23209 Taraš, Serbia
ugtaraskerode(at)yahoo.com
Webpage under construction
Contact person: Aleksandra Marovac Cucić
President of "Taraš storks"
Maršala Tita 104, 23209 Taraš, Serbia
+381 63 714 99 69
aleksandra.cucic(at)yahoo.com
Google Map
This map is currently hidden to protect your privacy. If you click the button below it will be loaded from Google.
When enabling the checkbox below your preference will be stored as a cookie to automatically display all maps on page load. The cookie will be stored for one week.
Landscape and habitat
Taraš is situated in the fertile floodplains of the Tisa river, approximately 40 km north of the confluence of the Tisa into the Danube. The storks forage in the wet meadows, ponds, pastures and small agricultural fields around the village. The river Tisa and the small ponds Crvenka and Čikoš are close to the village. In rainy years, when the river Tisa is flooded, storks find food near the river. Also with a lot of rain the Rogozara wet meadows fill with water and provide additional food sources. There are two protected wetland areas in close vicinity to Taraš: The small wetland "Okanj Bara Special Nature Reserve" to the east and "Ritovi Donjeg Potisja Special Nature Reserve" that protects several kilometres of the Tisa-river with oxbows and riparian landscape. Not too far from the village lie the salty waters of Rusanda Lake Nature Park and Slano Kopovo Special Nature Reserve, which both are important habitats for migrating birds.
Prvoje – the stork that wants to be first
Aleksandra Marovac Cucić, president of Association of Citizens "Taraš storks" tells the story of the stork Prvoje: "Since 2013, from when our association follows the population of storks in Taraš, one male stork always comes first. Older villagers say that he came first for many years before.That male is so special because in generally he is the first stork which flies back in our region. The earliest date when he came is first of March and the latest date is 8th of March. He and his female first hatched chicks. Because he likes to be first in everything, we gave him a name - Prvoje. This name literally describes someone who likes to be first. His female we called Mara. Prvoje and Mara are the most popular storks in our region."
Conservation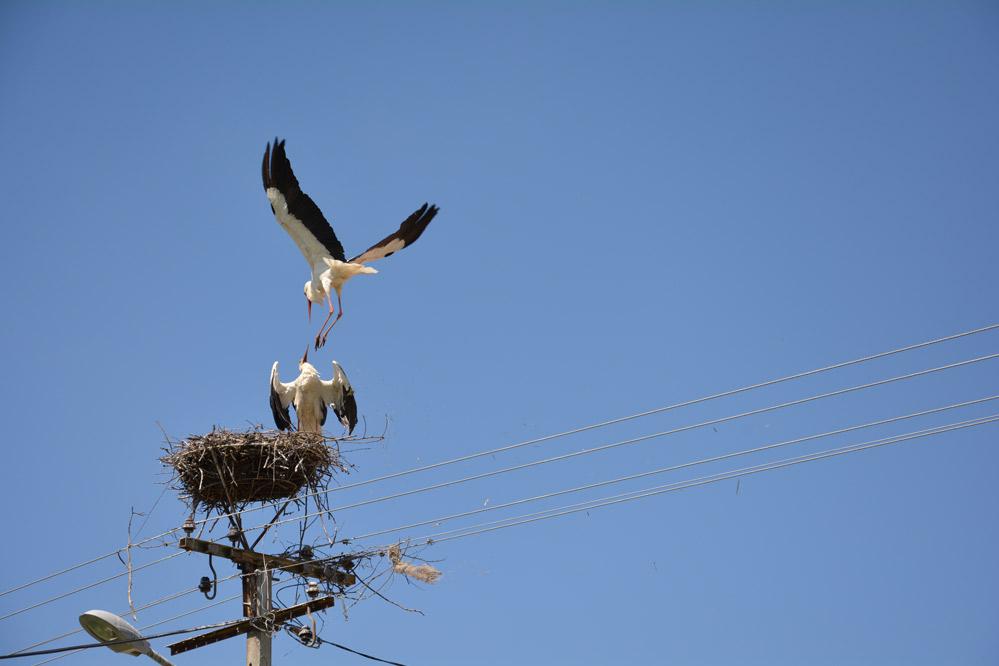 setting platforms for white storks nests
printing of educational leaflets about the white storks
organizing events (see above)
setting information boards about storks and Tisa river
bird watching for kids
project "Protection of white storks and their habitat by educating school children" with support from EuroNatur.

Local players and EuroNatur partners
Association of Citizens "Taraš storks", Local Primary School, Bird Protection and Study Society of Serbia (BPSSS)
Support us!
Report sighting
Have you seen a white stork or another interesting species of animal, plant or fungus? Make your observation count for nature conservation and share it with other nature lovers! It's free and it's fun!