Facts and Figures
Location:

Upper Thracian plain in central Southern Bulgaria close to Maritsa river. The river connects Belozem with Poros, the Greek European Stork Village, also lying on the Maritsa.

Population:

25 - 36

Min. and max. numbers of breeding pairs since the year 2005

5.000

Inhabitants in the year 2017

White stork in Bugarian:

Белият щъркел (Belijat štărkel)

Nesting sites:

On the roof of the school, on electricity poles, chimneys and trees

Events:

Festival of the White Stork, monitoring of breeding pairs and ringing of juvenile storks, stork exhibition
Google Map
This map is currently hidden to protect your privacy. If you click the button below it will be loaded from Google.
When enabling the checkbox below your preference will be stored as a cookie to automatically display all maps on page load. The cookie will be stored for one week.
Love feathers
"There is a story at Belozem that if one is not happy in love should get a feather from stork and throw it in the garden/yard of the house where the lady he is longing for lives and thus she will start loving him. The story has inspired real action of this kind and as far as we know it was proven to be true."
Events and tourism
Annual Festival of the White stork since 2006
Annual monitoring of breeding pairs and ringing of juvenile storks
Stork exhibition at community centre "Prosveta"

Landscape and habitat
The village has a railway station along the railway line Sofia – Burgas. On the south the lands of the village border Maritsa river (Марица), (Evros (Έβρος) in Greek and Meriç in Turkish) – one of the largest rivers in Bulgaria and on the Balkans. The area of Belozem covers 4200 ha. Most of the lands are arable agricultural fields. Among important crops are sunflower, vegetables and rice – rice fields cover 600 ha. Waterways and bodies cover 224 ha. In addition currently a small water (4 ha) body is being created by a private farmer at a land plot that used to be disused municipal pasture. Pastures, meadows and swamps cover 80 ha. Fields with other crops cover 3200 ha. Total area of prime habitat is 904 ha (ca. 20% of total area). The storks feed mainly on reptiles, frogs, fish, insects, mice and rarely eastern hedgehog.
The stork in Bulgarian culture and tradition
White Stork is presented more than any other animal in the traditional beliefs and magical rituals as a forerunner of spring, symbol of resurrection and new life. The most popular legend related to the stork, not only in Bulgaria, but also in many other countries is that this bird brings the human babies.
Following the most popular ancient custom in Bulgaria, the majority of people still wait for the storks to take down the white and read threads called martenitsi. According to the custom, on the first of March everybody receives as a gift white and read threads and he must wear them on his clothes or hand until he sees the first stork or the first blossomed tree. The ritual is for good health. When the first storks come, people take down their martenitsi and tie them on a blooming orchard tree. Some people used to put the threads under a stone and later on, according to the number of ants gathered under the stone, the fertility of the year could be predicted.
In some regions of the country at the sight of the first stork people grasp soil from the ground and throw it at the sky in order to make the year fertile. Both children and adults jump on one leg or imitate the flying storks believing that this will make them healthy.
People also believe that if in spring the storks come with muddy or dirty wings, it means that the year will be rainy.
Conservation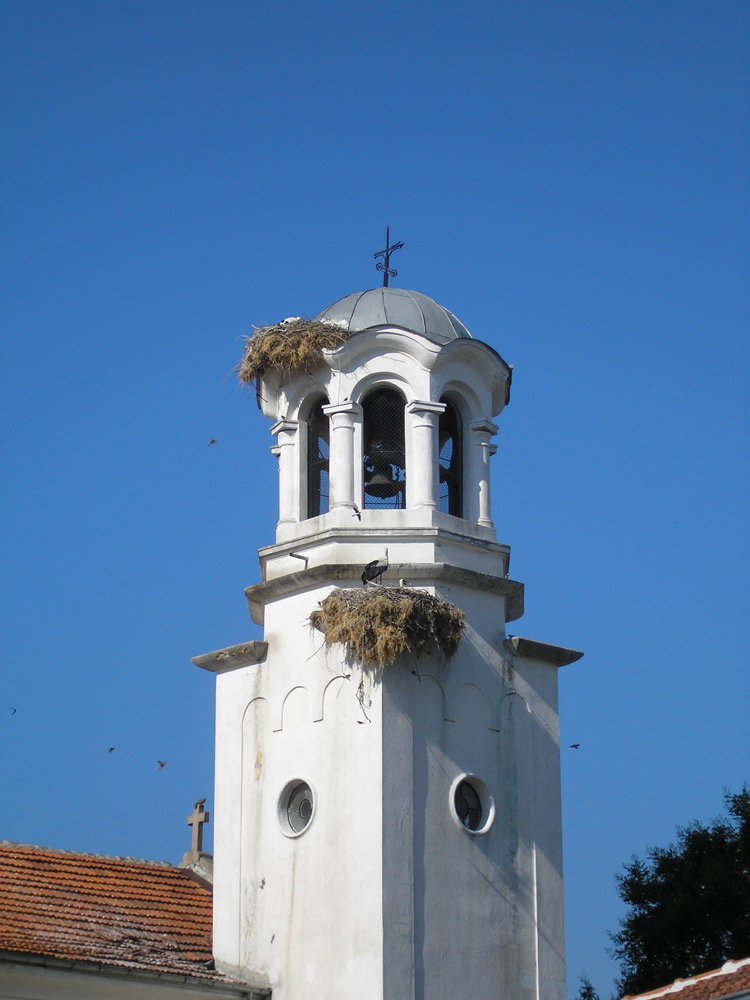 A Local Action Plan has been developed, some of the main targets are:
Improvement of habitat conditions with focus on wet meadows and pastures, by creation of a small waterbody and increasing the wet meadows area.
Improvement of breeding situation, by safeguarding nests from the roof of school and community centre by installing nest platforms. Safeguarding nests situated on electricity poles. Insulation of power lines. Annual maintenance/cleaning of nests.
Ringing and satellite tracking of White storks. Study of home range, dispersion and migration of storks. Monitoring of nesting success and habitat use in the vicinity of Belozem village. Marking of juvenile storks.
Training workshops for local volunteers for raising capacity for development of eco-tourism, monitoring and conservation of storks. Creating thematic White stork Park with observation tower and information boards. Marking a bike route in and around the village. Creation of a Belozem Stork Village website.
The complete Local Action Plan may be requested at Green Balkans office.

Local players and EuroNatur partners
Rakovski Municipality, Mayor's office Belozem, Green Balkans NGO, Community centre "Prosveta 1909", "Geo Milev" School
Support us!
Report sighting
Have you seen a white stork or another interesting species of animal, plant or fungus? Make your observation count for nature conservation and share it with other nature lovers! It's free and it's fun!