Malpartida de Cáceres, Spain, 1997
Facts and Figures
Location:

Extremadura, western Spain, not far from the Portuguese border

Population:

142 – 212

Min. and max. numbers of breeding pairs since the year 2000

4.500

Inhabitants in the year 2017

White stork in Spanish:

Cigüeña blanca

Nesting sites:

on building roofs (mainly on the church), artificial colony on poles, on rocks

Events:

Annual "Stork Week" in spring, ecotourism facilities
Google Map
This map is currently hidden to protect your privacy. If you click the button below it will be loaded from Google.
When enabling the checkbox below your preference will be stored as a cookie to automatically display all maps on page load. The cookie will be stored for one week.
Landscape and habitat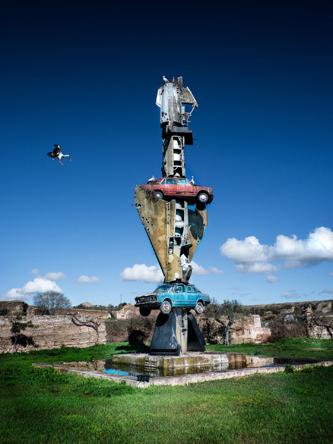 Malpartida de Cáceres is located in a pseudo-steppe area, in an undulating landscape dotted with huge granite boulders. The climate is characterized by irregular rainfall, with long and dry summers. In these conditions small water reservoirs get very important for the local fauna. There the water remains throughout the year because granite soils don't allow water infiltration to lower layers. Granite boulders and water mean rich ecosystems with refuge areas and feeding opportunities for wildlife. Los Barruecos Protected Area three kilometres south of the village is the best example of this habitat: a spectacular landscape, with enormous boulders and four artificial lakes. The storks of this unique colony nest on top of the boulders. Near to Malpartida there are two protected areas: San Pedro Mountains – home to the rare Spanish Imperial eagle and a large colony of Black vultures - and Llanos de Cáceres y Sierra de Fuentes, where steppe birds like Great and Little bustard live. Since 1990 the number of storks in Malpartida rapidly increased from 58 to 212 pairs in 2009. The main reason was the presence of a large waste disposal site near Malpartida. Storks found an easy food resource and changed their feeding habits and migration routes. People in the village of Malpartida suffered high pressure on buildings due to the weight of stork nests. In 2009 the open landfill was closed and replaced by another one where waste is recycled or treated. As a consequence, the number of breeding pairs is now reducing to a more natural level. In 2016 there were 151 stork nests in Malpartida.
Art-loving storks
In 1998, a seven metres high art sculpture was placed into the garden of Vostell Malpartida Museum (which is located in Los Barruecos Protected Area close to the village). A few days later one stork already began to build its nest on the sculpture. The Museum management was afraid that the storks could damage the avant-garde artwork, so the nest was removed. But the next season the storks came back. This time it was not only one stork, but three nests were constructed. The German artist Wolf Vostell, the author, understood the interest of storks for his work and ordered not to touch the nests - in accordance with the artists motto: `Life is Art and Art is Life'. Nowadays four stork nests are an integral part of the sculpture.
Nesting sites
There are three stork colonies in the municipality: 1. Urban colony in the village, stork nests on building roofs, mainly on the church and around. 2. Stork Wetland, artificial colony on poles, this wetland is made up of three water reservoirs constructed by EuroNatur grants. 3. Los Barruecos Protected Area, nests on rocks (huge granite boulders).
Events and tourism
Annual Stork Week in spring: Since 1990 the Municipality of Malpartida de Cáceres holds each spring (usually around the middle of April) an event called Semana de las Cigüeñas (Stork Week). Seven days full of environmental education, lectures, conferences and exhibitions, including the Silver Stork Award, an International Photo Contest and ecotours.
Ecotourism facilities in Las Barruecos: Information centre, restaurant and different signed tracks – including one suitable for the disabled. Furthermore in Los Barruecos one can find the contemporary art museum ´Vostell Malpartida´ in an old wool factory.
Conservation
Environmental education for schools
stork nesting areas conservation
creation and conservation of feeding areas
ecotourism promotion
Video on Malpartida de Cáceres
Local players and EuroNatur partners
Municipality of Malpartida de Cáceres, Primary and Secondary Schools, SEO/Birdlife Spain, Mr Manuel Giraldo / Ranger of environmental authority (Extremadura Regional Government)
Support us!
Report sighting
Have you seen a white stork or another interesting species of animal, plant or fungus? Make your observation count for nature conservation and share it with other nature lovers! It's free and it's fun!