Eskikaraağaç, Turkey, 2011
Facts and Figures
Location:

Turkey, Marmara Region, Province of Bursa, District of Karacabey, Eskikaraağaç is located in northwestern Turkey, close to the town of Bursa and lies on a small peninsula that stretches into lake Uluabat.

Population:

5 - 10

Min. and max. numbers of breeding pairs since the year 2004

500

Inhabitants in the year 2017

White stork in Turkish:

Leylek

Nesting sites:

Electricity poles with platforms. Until 2003 some nests had been on houses. Gradually all pairs passed over to platforms on pylons in the village. In some years one pair tries to breed on top of the mosque.

Events:

Eskikaraağaç Stork Festival, every May/June since 2005; Welcome and Farewell Parties are planned for 2017
Contact
Franziska Arici - Agricultural Engineer, is voluntarily running the "Stork Friendly Villages around Lake Uluabat" Project. Leader of the project "Revitalization of Wet Meadows and Pastures for Feeding the White Stork"
franzi(at)ttmail.com
Prof. Dr. Ismet Arici – Retired Professor at the Faculty for Agriculture at the Uludağ University Bursa, voluntarily running the "Stork Friendly Villages around Lake Uluabat" Project. Consultant and organizer of the Pasture Project
ismet.arici2(at)gmail.com
Mehmet Vural - 2. Mayor of the Municipality, coorganizer of the yearly Stork Festival and the Pasture Project
mehmetvural(at)karacabey.bel.tr
Alper Tüydeş
Press Officer of the Municipality of Karacabey and Nature Photographer
Website of municipality: www.karacabey.bel.tr
Website of Stork Festival: www.leylekkoyu.com
Google Map
This map is currently hidden to protect your privacy. If you click the button below it will be loaded from Google.
When enabling the checkbox below your preference will be stored as a cookie to automatically display all maps on page load. The cookie will be stored for one week.
The Old Man and the Stork
Adem Yilmaz is a fisherman in the Village of Eskikaraağaç near Bursa in Turkey. Five years ago a stork landed on his boat and caught the fish, which Adem threw to him. By time Adem and the stork became good friends. Whenever Adem goes for fishing the stork accompanies him, standing at the top of the moving boat. At the end of the winter, Adem is impatiently waiting for his friend to return from migration. Hopefully the too will go fishing together for many years.
See a short film of Adem and the stork.

Landscape and habitat
The Village of Eskikaraağaç is located on a very small peninsula in Lake Uluabat. Lake Uluabat is a big (9 x 23 km) shallow lake in the Marmara region. It has become a Ramsar Site in 1998. In the vicinity are the Lake Manyas National Park and the protected Delta of Kocaçay. The water level is changing over the year. The shoreline is partially grassland or covered with reedbeds, in some places water lilies. Not far away is a mixed colony of herons, pygmy cormorants and cormorants on elm trees. In the back of the lake are neglected state pastures. They get overflown in spring and fall totally dry during summer and autumn. Behind the pastures is slopy cultivated farmland. The field crops are slowly changing from grain to vegetable and fruit like olive, peach and walnut. A wide and open irrigation channel is going alongside the slopes. The top of the surrounding hills are dry and stony with small bushes. Besides the breeding storks also summering and migrating storks and a few Black Storks feed and rest in the area. Purple Heron, Little Bittern, Water Rail, Pygmy Cormorant, Garganey, Ferruginous Duck, Crested Grebe, Little Grebe and Coot breed in the dense vegetation at the shoreline. Whiskered terns are breeding on waterlily leafs. Crested Pelican, Little Egret, Great White Egret, Glossy Ibis, Cattle Egret and Grey Heron come for feeding. Uluabat Lake is also home to breeding colonies of pygmy cormorant, night heron, squacco heron and spoonbill.
Conservation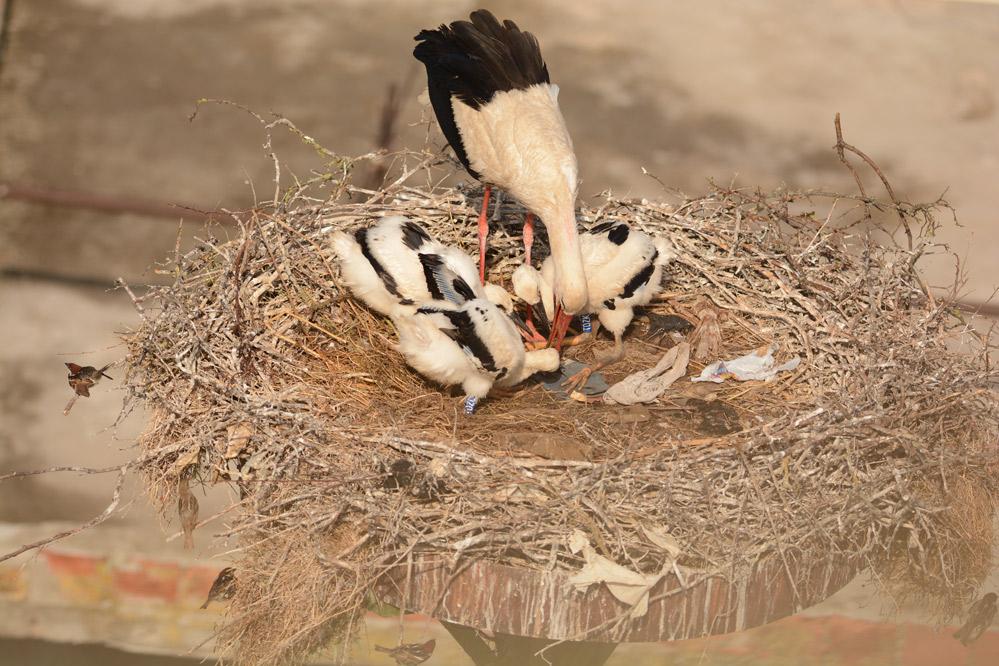 All open powerlines around the village are a potential threat to the storks and accidents take place every year. Also summering and migrating storks and crested pelicans, which feed and rest in the area, die every year by electrocution or collision. In the most dangerous places, the upright elevators were covered with hoods, some lines were marked with flags. But a total prevention has not been achieved. "Stork Friendly Villages around Lake Uluabat" Project is trying to improve this situation as soon as possible.
One important effect of the nature protection activities at Eskikaraağaç is the prohibition of bird hunting around the village and at the lake area nearby, where thousands of ducks rest and feed during winter.
Project "Revitalization of Wet Meadows and Pastures for Feeding the White Stork"
Local players and EuroNatur partners
Mayor of the Municipality of Bursa, Bursa Directorate for the Protection of Nature, Women's Empowerment and Development Association of the Village of Eskikaraagac EKADER, Karacabey Governorship, Village administration, District Department for Education, Ministry of State Hydraulic Works (DSİ), General Directorate of Electrical Power Resources (UEDAŞ - Electricity Distribution Company), ELİZTAŞ – Electrical Company , Bursa Uludag University, gendarmery, Fishing Cooperative
Support us!
Report sighting
Have you seen a white stork or another interesting species of animal, plant or fungus? Make your observation count for nature conservation and share it with other nature lovers! It's free and it's fun!