A four-part webinar series provides information on current developments of man-made impacts on the storks' living environment. The second appointment will take place on 27 November from 10-12. The topic is: Population development of Eastern and Western populations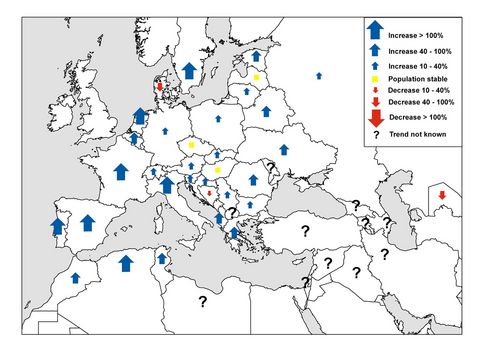 White Stork populations in Western and Eastern Europe are developing very differently. While populations in the West are increasing strongly, in Eastern Europe they are decreasing or more or less stable. What are the reasons for this development?

Based on the results of the last International White Stork Census 2014/15, the general population development will be explained and the differences between eastern and western populations will be discussed in detail. The results of studies carried out with telemetry, especially by the Max Planck Institute for Behavioural Biology, provide indications of possible causes. Furthermore, the development of a regional population will be pre-sented.
The speaker is Kai-Michael Thomsen (NABU). The conference will be bilingual: in German with simultaneous translation into English on a separate audio channel.
Support us!
Report sighting
Have you seen a white stork or another interesting species of animal, plant or fungus? Make your observation count for nature conservation and share it with other nature lovers! It's free and it's fun!