A four-part webinar series provides information on current developments of man-made impacts on the storks' living environment. Start is 23 October 2021.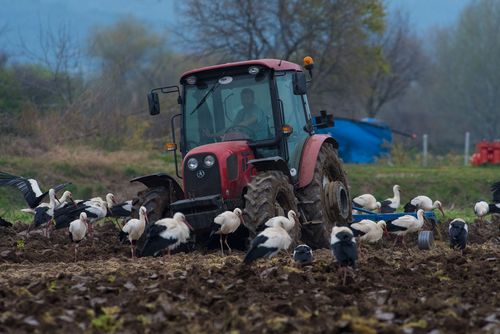 Rubbish dumps, food garbage, plastic debris, cords in nests, changing migratory behaviour – White Storks live close to humans and profit in many ways. Hence, the increase of the western population in the last centuries is supposed to be primarily based on these factors. However, these changes have negative impacts, too. Storks swallow plastic debris with their food and use plastic foils and cords as nest material potentially endangering their young.
In four online meetings, using Zoom, we would like to present and discuss these subjects and
problems:
1. European rubbish dumps before a significant change: Is garbage in Spain and Portugal as a food resource vanishing? How do White Storks react? Do they have alternatives? (Holger Schulz, Peter Enggist)
Saturday 23rd October 2021, 10-12 am CET
2. White Stork census 2014/2015: Population developments and differences between Western and Eastern migrating populations and their potential causes (Kai-Michael Thomsen)
Saturday 27th November 2021, 10-12 am CET
3. Plastic debris in food and as nesting material in White Stork (Lorenz Heer)
Saturday 22nd January 2022, 10-12 am CET
4. Increasing number of non-migrating White Storks and birds overwintering in their breeding
areas (Peter Enggist)
Saturday 19th February 2022, 10-12 am CET
We plan to hold these conferences bilingual: in German with simultaneous translation into English on a separate audio channel.

Here you get more information about the different subjects concerning the four conferences.

Here's the document to fill out for registration.
Support us!
Report sighting
Have you seen a white stork or another interesting species of animal, plant or fungus? Make your observation count for nature conservation and share it with other nature lovers! It's free and it's fun!