The Lonjsko Polje Nature Park Public Institution has renovated an educational, walking trail in Čigoč, the first European stork village. This project is funded by EuroNatur.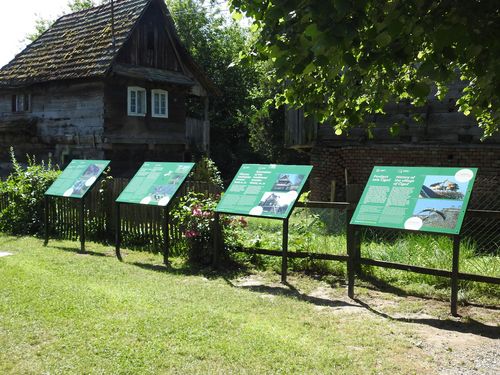 The Posavac trail in Čigoč is circular, it is about 4,2 km long and takes 2,5 hours to tour. The starting point of the trail is at Čigoč visitor center, passing through the village, then turns away to the gravel road to the pasture, along the border of Lonjsko polje retention area and then back to Čigoč Village. This walking trail provides visitors unique experience of nature. Through this walking trail visitors can see white storks, different species of herons and other wetland birds.This trail have educational character and along the trail there are a lot of bords that inform visitors about the history of Čigoč village, storks, pastures, meadows etc. Walking through the trail visitors can discover about storks life, how farmers use land, meadows and pastures, and natural floodplain.
The Posavac walking trail was built in 2010, with a donation of EuroNatur which recognized importance of stork protection and public awareness. 10 years passed since then and there is a need to rebuild the trail because educational boards and direction signs are destroyed by climate conditions through the years. Over the past few days, intensive work has been done on the reconstruction of the walking trail, the old educational boards and direction signs have been removed, and new ones have been installed on the walking trail.
The Posavac walking trail has been renovated thanks to the EuroNatur Foundation, which has recognized the importance of raising awareness about nature and biodiversity conservation, as well as the preservation of protected species and habitats, and all of that Čigoč village provides to the visitors of the Lonjsko polje nature park.
Support us!
Report sighting
Have you seen a white stork or another interesting species of animal, plant or fungus? Make your observation count for nature conservation and share it with other nature lovers! It's free and it's fun!