From 12 to 15 June 2019, representatives of the European Stork Villages Network will meet in the Stork Village of Češinovo-Obleševo. Together with international nature conservation experts, they will discuss and learn about recent progress in protecting storks both in the Stork Villages and throughout Europe.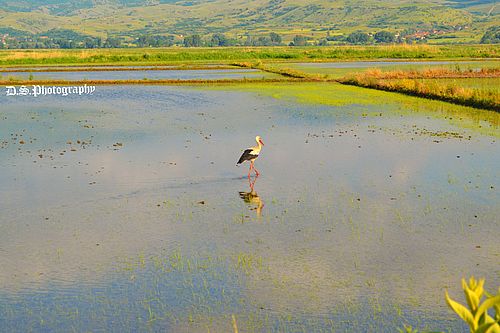 For a few days, the municipality of Češinovo-Obleševo in North Macedonia will again be the focus of the stork conservation scene. Stork conservationists from all over Europe will convene there for the 16th Stork Village Conference which runs from 12 to 15 June. There will be talks on, amongst other things, environmental education measures and the securing of power lines. For white storks (and other large birds) these pose a deadly danger, whether it be through collision or electrocution. Češinovo-Obleševo, which was declared a Stork Village by EuroNatur in 2013, has already done a great deal to make the electricity pylons in the municipality and the surrounding area safe; quite a few of the approximately 80-strong stork population breed on the masts. Also planned is an excursion to the rice fields around Češinovo-Obleševo. The elegant wading birds find ideal foraging conditions there.
Support us!
Report sighting
Have you seen a white stork or another interesting species of animal, plant or fungus? Make your observation count for nature conservation and share it with other nature lovers! It's free and it's fun!