Those working to protect storks in the Serbian borough of Taraš have been keeping extremely busy. The new observation tower, information boards and guided excursions are just a few examples of the wide range of activities they have been involved in.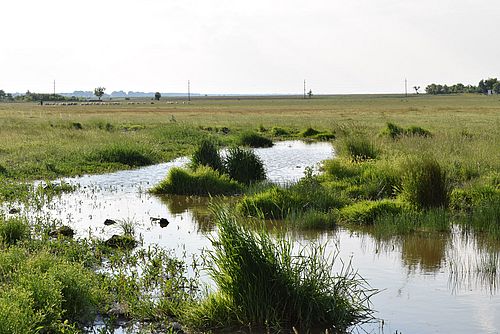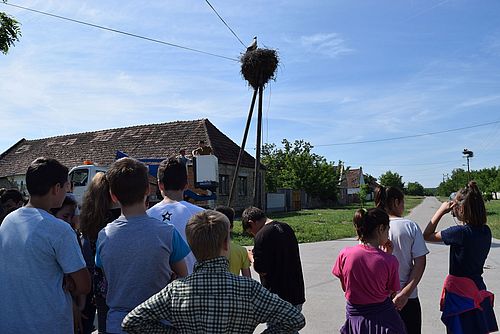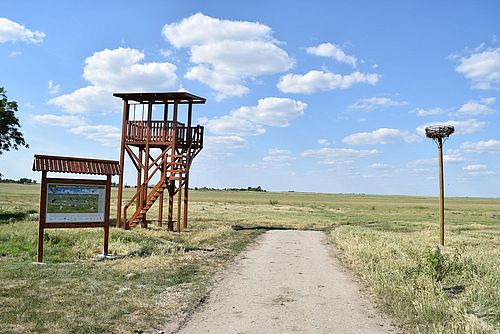 Taraš is located in the centre of the province of Vojvodina in the Serbian region of Banat. Here the meadows and pastures of the floodplains of the river Tisa provide the white storks with a rich variety of culinary delights. Awarded the title of European Stork Village by EuroNatur in 2015, this municipality is committed to providing these elegant fliers with optimal living conditions in the future too. To ensure this happens, it is vital that Taraš' younger inhabitants are also inspired with enthusiasm for their feathered neighbours.
A newly erected observation tower and the attractive information boards placed at several points around the area provide the basis for this. But the fascinating world of the white storks can only really be appreciated close up. This is why the stork experts of our Serbian partner organisation BPSSS have arranged a number of excursions to the meadows and pastures around Taraš for school classes in the region. In parallel to this, the local association "Taraš storks" has developed an extensive educational programme for the children and young people of the region.
But it's not just the school children who have been inspired by the experience of watching these long-legged waders from the observation tower as they hunt for food and feed their young. The opportunity is much appreciated by adults too. Taraš' new and attractive environmental infrastructure gives this Serbian stork village an additional appeal to both stork fans living locally and those from abroad.
Support us!
Subscribe to our Newsletter
Report sighting
Have you seen a white stork or another interesting species of animal, plant or fungus? Make your observation count for nature conservation and share it with other nature lovers! It's free and it's fun!