In the Bulgarian stork village of Belozem a new White Stork Tourist Information Centre officially opened on 23 September 2019. The celebrations with EuroNatur partner Green Balkans also involved Belozem's mayor and the priest who gave blessings to the centre.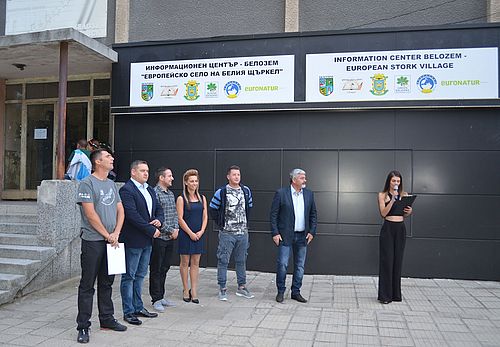 The emotional highlight of the event was the presentation of a certificate to a boy from Belozem who last summer rescued a stork chick which had fallen from its nest. He picked it up, took it home and responsibly took care for the chick for one night. The next day the boy and his parents brought the young bird to the Wildlife Rescue Centre of Green Balkans, where the nature conservationists took over the further care and later returned the stork to the wild. In the Information Centre, which is located in the premises of the Belozem Community Centre, visitors can find out about white stork biology, threats and the "European Stork Villages" initiative. There have been plans for an information centre for some time already. Since 2015, various stork protection measures have been implemented as part of a local action plan, such as ringing young birds, cleaning nests, restoring meadows and finally building the information centre. The centre will also support environmental education in the region through excursions and other extracurricular activities.
Support us!
Report sighting
Have you seen a white stork or another interesting species of animal, plant or fungus? Make your observation count for nature conservation and share it with other nature lovers! It's free and it's fun!